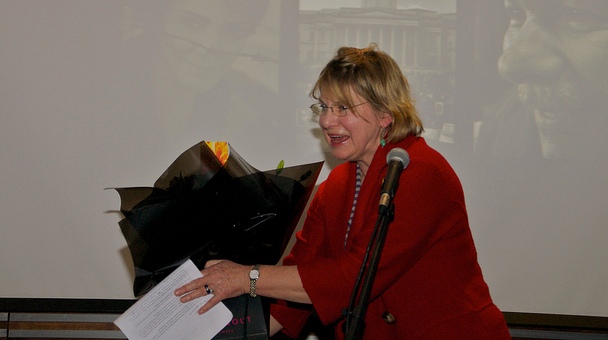 Carole Seymour-Jones will be hugely missed by all who had the honour of working alongside her during her many years here at PEN. 
*A memorial service for Carole will take place at 11.30am on 15 October at St Bride's Church in London, followed by a gathering at the Free Word Centre in Farringdon. All welcome. Please email [email protected] if you plan to attend*
Carole Seymour-Jones was an essential link in the chain which connects the PEN of the past with the PEN of the future. Through good times and bad, she was an unwavering source of positive energy, good humour and forthright common sense. She was an excellent biographer and journalist because she cared deeply about people and was fascinated by their lives. This same sense of empathy made her a powerful campaigner on behalf of imprisoned and persecuted writers around the world.
Carole and I travelled to many PEN Congresses and international Writers in Prison Committee meetings together. She was the best possible travelling companion, diving enthusiastically into conversation with everyone we met, from taxi drivers to Nobel laureates. She was a good linguist, but could always communicate effectively with anyone whose language she did not know in stentorian English. Her smile and her charm overcame any cultural obstacles. Whether she was in a bar in Istanbul, a theatre in Brussels or a teahouse in Tokyo, Carole would always be found at the heart of the conversation, often talking but always listening to what others had to say.
In 2008 we were invited by Mohammed Nasheed to attend his inauguration as President of the Maldives. After the glamour and pageantry of the ceremony, Nasheed sent us off to visit the prison-island on which he had been incarcerated as a dissident journalist only a few years previously. It was a strange and disturbing place. Several hundred men were still imprisoned there and they crowded around us as we walked through their yards. I found the experience overwhelming, but Carole – whilst deeply moved – did not lose sight of her professionalism, and conducted long and detailed interviews with two imprisoned journalists, after which PEN campaigned effectively for their release.
Closer to home, Carole was always available to her colleagues on the English PEN Board and in the office for conversation and advice. She was an effective Chair of the Writers in Prison Committee and would have made a good President of English PEN. Whilst she was disappointed not to be elected to that role, she accepted the decision with good grace, and continued to work tirelessly on behalf of PEN and its beneficiaries.
Carole left us something to remember her by in the anthology of writing by imprisoned writers, Another Sky, which she co-edited with Lucy Popescu. In her own words, the book is a tribute to 'the indomitable human spirit' which endures 'despite suffering and loss of liberty'.
That indomitable human spirit was her own. Carole was so vibrant with ideas, interests and enthusiasm that it feels like a horrible grammatical mistake to write about her in the past tense. I half expect her to correct this. But then I am forced to remember that Carole will not edit another word, or write, or laugh or protest again. Her premature death is a terrible loss to all of us who knew her, and to the many more who did not, but who benefited hugely from her work and her writing.
Jonathan Heawood – Director, English PEN, 2005-12
I met Carole in 2003 when I was giving a talk to the Biographers Club on Oscar Wilde. Carole came up, introduced herself and typically told me that I was joining English PEN the next day, and that I was to come to a meeting of the Writers in Prison Committee the following week. Naturally, I did what I was told. Carole was a force of nature, a benign and wonderful force of nature.
I had a deep and abiding friendship with Carole, who had a wonderful gift for friendship. She was warm, compassionate, deeply interested in other people and also very funny. She was an exemplar of an engaged writer, a writer who believed that the pen was mightier than the sword; a writer who believed that writers had a moral imperative to help other writers; a writer who believed that writing was more than the sum of its constituent parts, that it was an activity fundamental to society, to democracy and to humanity.
Carole was a superb biographer, a meticulous researcher, fearlessly independent of mind whose books challenged the hackneyed, the predictable and the pedestrian. And as Chair of the Writers in Prison Committee, Carole took the work of the WiPC to new and undreamed-of heights, turning the WiPC into a respected and significant player in international human rights.
True friendship is a rare commodity, but it's something Carole and I had. A forest of wisdom, compassion, joy and love has gone from my life and no newly-planted saplings can ever replace it.
Despite my sadness I am deeply proud of Carole and of what she achieved as a writer and as Chair of the Writers in Prison Committee.
Neil McKenna, Vice Chair of the Writers in Prison Committee
I am devastated by Carole's death. She was a great friend of many PEN members – myself included – as well as a role model of a colleague.
I remember during my time in the WiPC and, indeed, when I was the Chair, she proved to be one of the committee's most committed and indefatigable members. I am sure there are countless ex-writers in prison who still cherish the letters and the books she sent to them over the years. I also know and followed closely her various – and yes, forever indefatigable – activities at PEN, particularly as Chair of the WiPC and as Deputy President.
She was also a fine writer – in my opinion one of our best biographers.
Her books on de Beauvoir and Sartre and on Vivienne Eliot, though written many years back, still remain most memorable. And her biography of the war-time agent, Pearl Witherington – published some two years ago – is quite a tour de force. It is a paean to humanity's courage against the interminable evils that stalk us.
I should also state, romantically, that Carole was the epitome of a loving person. Her relationship of many years first as the partner, then as the wife of the late Geoffrey Parkinson was a joy to witness. If devotion, caring, humour, solidarity in bad times and intellectual compatibility are the foundations of a perfect relationship, Carole and Geoffrey had them in abundance. I hope now that they are no longer with us they will find each other wherever death takes people and be as happy there as they were in life.
May their souls remain in luminosity for an eternity.
Moris Farhi, Vice President, PEN International
Carole and I competed for the role of chair of English PEN's Writers in Prison Committee. Carole won, quite rightly, and then did a marvellous job for several years. She made me her deputy and we travelled all over Belarus together to help have professor Bandajevsky released from house- arrest near Minsk. The government had claimed that the Pripyat region to the South where 70 per cent of the radiation from the 1986 Chernobyl accident in neighbouring Ukraine  had fallen was now safe and had shamelessly lifted all restrictions. It was nonsense; the region would never be safe. Carole and I interviewed Bandajevsky's wife several times in the safety (from microphones) of the forest near  the Orthodox church on the outskirts of Minsk where she was housed. We had a long telephone conversation with Bandajevsky himself but his wife asked us not to visit. We found a guide who took us through the abandoned villages to the South. We were told where and where not it was safe to tread. In one empty   village flourishing with trees and plump fruit, we came across a family who had returned despite the risk and appeared – from old grandmother  to baby – to be radiant with health. We then visited Grodno to the west where recently-released journalists  showed us a van outside the KGB building filled with their confiscated computers. Carole was a marvellous travelling companion, dedicated, questioning, fearless, witty and always good-natured. I was in an unhappy marriage and she spent hours consoling and advising. Her death came like a thunderbolt to me as it must have done to so many.
Trevor Mostyn, Deputy Chair of the Writers in Prison Committee, English PEN 
This is truly ghastly. I am deeply shocked. I worked with Carole for several years on the writers in prison committee and voted for her to take on the leadership. Carole was a most generous and loyal friend as anyone who worked with her at PEN will remember. She was deeply caring and fair minded, often putting the needs of other writers around the world above her own concerns. Much too young to go. Recently,  because of my own book on women in France I interviewed her informally about both Simone de Beauvoir and Pearl Witherington and she was always happy to share her information and contacts. When I interviewed her formally (which I did twice at festivals) she was most professional and polished and again, generous in her thanks to others. All too rare!
She will be much missed
Anne Sebba, Member of the Writers in Prison Committee
I knew and worked with Carole when we were both on the Writers in Prison Committee, and also when she was chair of that committee. There were some difficult times within PEN at the time, and Carole's calmness, good sense and humanity were hugely influential and important. She was a kind, intelligent and funny woman, and I am proud to have known her.
Terence Blacker, Member of the Writers in Prison Committee
Many who knew Seymour-Jones will regard her work with English Pen as every bit as important as her achievements as a writer. She served as its deputy chair and chaired its Writers in Prison committee (2006-10). She travelled to Belarus, Turkey, Ukraine and much more widely to demand the release of imprisoned authors. With Lucy Popescu she co-edited Another Sky: Voices of Conscience from Around the World (2007), an English Pen anthology of "prison pieces" by, among others, Aung San Suu Kyi and Orhan Pamuk. She was also the main instigator of the Pen Pinter prize, founded in the writer's memory and awarded to an author who defines "the real truth of our lives and our societies".
No one who worked with Seymour-Jones in her pursuit of justice and freedom of expression will forget her breezy passion, her doggedness or her clear presentation of usually unanswerable challenges. Slightly windswept, nearly always cheerful, she was an incorrigible force for good.
Alastair Niven, former English PEN President. Read Alastair's obituary in The Guardian.

I was very shocked to hear of Carole's death.
There will be tributes from many who knew her much better than I did.   I knew her because she was chair of the Writers in Prison Committee of PEN.   A very good chair too.   She was, above all, welcoming and friendly; no-one was left unacknowledged or abandoned.   She was efficient and knew how to chair a meeting; speakers were not cut off but meetings finished on time.   She was well prepared and her knowledge was consummate.
Carole knew very well that I was a probation officer but never expressed any knowledge of the subject herself.   I was amazed when she introduced me at a summer party to her companion Geoffrey Parkinson, famous probation officer and writer of an earlier generation.  She probably knew as much as I did about the probation world but was entirely self effacing about it.
Her book on de Beauvoir and Sartre was a stormer.   Everyone I have given copies to has loved it.
I knew Carole only slightly but I felt she was my friend.
Jeremy Cameron, Member of the Writers in Prison Committee
I was deeply saddened to read about Carole's sudden and unexpected death. It is a great loss to all of us and to you at PEN where I know she was a tireless supporters. I am sure you will remember the book that we published with her. She was a brilliant editor to work with, super-efficient, endlessly charming, patient and thoughtful – in short a model author and what a great book she produced. It sold well and is a book that I am very proud that we published. I am proud because it is a great book, but not every great book is a pleasure. She made it that. It is very hard to believe that she is no around.
My deep condolences to everyone at PEN.
Andrew Franklin, Publisher and Managing Director, Profile Books. In 2007, Profile Books published the remarkable anthology 'Another Sky: Voices of conscience from around the world', edited by Lucy Popescu and Carole Seymour-Jones in association with English PEN.
I was active on the WiP committee some years before Carole appeared there, so we did not coincide, but I applauded her  energy and commitment to that cause. I reviewed her book on de Beauvoir and Sartre in 2009, so when we subsequently met at a PEN function we bonded over our common knowledge of recent French history. She was by then researching her book on Pearl Witherington: I was friends with MRD Foot, the SOE historian (now deceased) and was very glad to be able to introduce Carole to him as I knew they would like each other. A year or two later Carole needed to complete her research with a visit to the Archives de l'Indre in central France and to a small town called la Châtre where a café-épicerie had been the clandestine head-quarters of the local Resistance. As I was doing some research in the area myself and my husband and I had owned a small house there for many years, I invited Carole to stay. She was excellent company, and was far more energetic and fearless than I would have been about hiring an unfamiliar car and making a substantial journey alone to visit the martyred village of Oradour sur Glâne. I am finding it difficult to believe that this person so apparently robust and full of life should have departed so suddenly.
Gillian Tindall, PEN member
Particular memories for me include our two occasions sharing a platform at Shakespeare & Co., the first for her presentation of the Sartre/de Beauvoir book, about which she was unnecessarily nervous, the second an 'interview' at the 2010 festival about 50 years of the WiPC. Carole was always down-to-earth, non-deceptive, insightful and brave – that is, ready to go against the grain if/when necessary. She also had the excellent quality of never judging a person merely on the grounds of publicly affirmed achievement. She asked me for some advice on how to access old communist files on Sartre in post-communist Eastern Europe and, though I did no more than suggest a few possible avenues of inquiry, she put in me in the acknowledgements of her book for it. It's the mark of a particularly generous spirit never to forget who has done you a favour, no matter how fruitless or small. At the same time, Carole made equivalent efforts on behalf of friends of huge reputation when it seemed that her effort was called for. The PEN/Pinter Prize, I believe, owes much to this.
She was not only one who never blithely relied on other people's efforts but one who did all she could with a gentle laugh and a smile.
I found her delightful.
Chip Martin, PEN member
I was saddened to hear of the death of Carole Seymour Jones. While I was heading PEN International's Writers in Prison Committee, I could always rely on English PEN to be among the first to stand up for writers at risk, whose lives as well as liberty were threatened. As Chair of English PEN's WiPC, Carole worked with the dedicated team at the office to make sure that these cases were made known to the membership, giving guidance for letter writing, gatherings outside embassies, for articles in the press, ensuring that justice be found. Carole attended several international WiPC conferences. I recall her quiet yet persistent presence, sometimes at the podium, other times running or taking part in workshops with other  PEN members from around the world, working together to find ways to lift the repression against their fellow writers.
It is people such as Carole who are the backbone of PEN, dedicating considerable time and resources to help other writers who don't have the freedom that we enjoy here in the UK. She will be missed.
Sara Whyatt – former Programme Director of PEN International's Writers in Prison Committee, 1990-2013
Carole was a first-rate writer and (something that doesn't always go together with that!) a wonderful person to work with. A few years ago we tutored an Arvon week together
on our shared subject, biography. Carole was a terrific teacher – rigorous and passionate about her subject, sensitive and thoughtful to her students. And a great colleague, calm
and reliable in a storm, of which  there were naturally many. We will all feel her absence for the many more years she should have lived.
Carole Angier
I have always found Carole to be a good friend as well as a helpful colleague, always willing to talk about other people's problems with their half-written biographies as well as sharing her own ups and downs. She did me a great last minute kindness some years ago by taking over a course I was too ill to run and co-directing it beautifully with no fuss and enormous patience.  I enjoyed her enthusiastic and sometimes provocative participation at many Salon evenings in London.
I shall miss her.    
Sally Cline
A tribute to the spirit of Carole Seymour Jones.
I was shocked to hear the news of her death. I will never forget her sympathy to my case as an Ahwazi Arab writer escaped  from the Iranian regime prison and repression and seeking asylum. In January 2009, she – as the chair of writers in prison committee – helped me to speak in English PEN about my situation in the prison, as an example of other Iranian writers. In the Summer of 2009 when I was waiting for my asylum and my family still had not joined me, she invited me to a lunch to console and comfort me. And I met her over the years at several events and used her advice, the last meeting was in Naomi May's home in 2012. Unfortunately I lost these two good friends in English PEN and I'm proud of its Honorary Membership. I hope that English PEN will continue the legacy of deceased in supporting Persian and non Persian writers and poets in Iranian prisons.
Yousef Azizi , Arab Iranian writer and journalist  
I never had the opportunity of meeting Carole in person but I was the recipient of her warm hospitality via the writers in Prison Committee through many books sent to me while in prison or detention without trial in Kenya as the then publisher and editor of The Nairobi Law Monthly. Of course the books reached me only after I had left prison because I wasn't allowed any books at Kamiti Maximum Prison in Nairobi. I join her many friends and well wishers throughout the world in paying tribute to a true champion of the voiceless.
Gitobu Imanyar, Publisher & Editor in Chief
I just remember how encouraging and supportive she was during Beyond Bars. I also remember how committed she was to PEN and to writers in Belarus in particular — I remember her article was so very good because it showed an incredible detailed memory of what she experienced, and also how strongly she felt about it all.
Natasha Schmidt, editor 'Beyond Bars: 50 Year of the PEN Writers in Prison Committee'
I was so sorry to read this dreadful news.  It was clearly very sudden and I wanted to pass on my sincere condolences to Carole's family and friends, and, of course, to all of you at PEN who have worked so closely with her over many years.  I was always struck by her warm enthusiasm and commitment to the plight of others, coupled with her immense intellect.  What a terrible loss.
With best wishes from everyone at Prisoners of Conscience
Lynn Carter, Director of the Prisoners of Conscience Appeal Fund
Carole's eldest daughter Emma has now set up a memorial and fundraising page in her memory so please do visit that and take a moment to leave a message or make a donation if you can: caroleseymourjones.muchloved.com. You may also like to visit the Facebook page Carole and her son Ed created featuring book reviews and an interview on Radio 4.
Please also send your memories of and tributes to Carole to [email protected] and we will share them with her family and add them to this page.