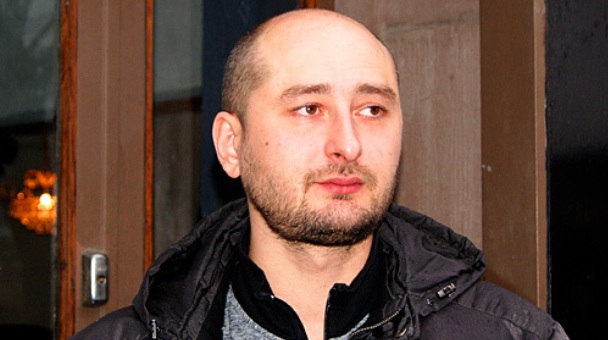 English PEN is deeply saddened by the murder of journalist Arkady Babchenko.
Journalist and PEN-supported writer Arkady Babchenko left his native Russia in February 2017, describing it as 'a country I no longer feel safe in', later moving to Ukraine with his family. Babchenko, was who living with his family in Kiev, was shot three times as he left his apartment yesterday, 29 May, and died on his way to hospital. English PEN calls for a full and impartial investigation into the murder.
English PEN was proud to support Babchenko's extraordinary book One Soldier's War in Chechnya (Portobello) translated by Nick Allen back in 2007 and honoured to publish his work on PEN Atlas.
Revisiting his 2012 piece 'Worlds apart: Russia online and offline' in the wake of his death serves as a powerful reminder of his incredible courage:
As an active oppositionist calling on people to fight for their freedom I have had a court case opened against me, accusing me of 'instigating mass riots'. The secret services are watching over me, my telephone is bugged, and when I make myself a cup of tea I hope to god there is no polonium in it. But as we say in Russian: 'He who is afraid of wolves should not go into the forest' – that is, nothing ventured nothing gained.
English PEN sends our deepest condolences to Arkady's family and are inviting his friends, colleagues and readers to share tributes.
Arkady Babchenko's death is shocking news. English PEN was proud to fund the publication of One Soldier's War in Chechnya, his brave account of Russian military life. Today is a tragic day for Arkady's friends and family. It also marks a huge loss for everyone who values powerful writing.
Antonia Byatt, Director, English PEN
It is a pickaxe. Arkady Babchenko was a wonderful man, all love and light. He made space for witness to the black truth of post-Soviet Russian military life, and bore witness himself.Who will bear witness now? The lights keep going out all over Europe.
Philip Gwyn-Jones, Trustee, English PEN
Devastating news about Arkady Babchenko. He was a brave journalist but also a hugely talented writer – his One Soldier's War in Chechnya is a classic of war writing. For those of us who met him he was full of kindness.
Tasja Dorkofikis, Arkady's former editor at Portobello and former editor of PEN Atlas
Arkady was an extremely brave writer. He is the latest shocking casualty among the exceptionally courageous Russian journalists who continue to speak out. I was lucky enough to meet him in 2007 for an event at the Southbank in London, when his extraordinary book about being a soldier in the Chechen war was published by Portobello. It was a devastating and unforgettable insight into the extreme brutality of the Russian army by a young writer. This is a terrible loss and an appalling toll for Russian journalists.
Jo Glanville, Former Director, English PEN
We send condolences to all his family and friends, and to all the courageous individuals in Russia and outside it who still believe in democracy and truth.
Sigrid Rausing, Publisher, Granta
The news of Arkady Babchenko's death is utterly heartbreaking. He is an inspiration to all of us, everywhere. His writing will live forever. We at Portobello consider his unflinching and unforgettable testimony of the Chechen war to be one of the most important books of the current century. The very definition of shining a light into darkness, giving voice, speaking truth to power. A book of quite astonishing power and honesty. To read it now, today, is simply devastating.
Max Porter, Editorial Director, Granta
Read an extract from One Soldier's War in Chechnya on the Granta website.
Please share your tributes with us via [email protected]