Poet and lyricist Galal El-Behairy is currently serving a three-year prison sentence in Egypt. Arrested in March 2018, Galal El-Behairy was held incommunicado for a week before appearing before the High State Security, showing signs of severe torture.

In July 2018, as he reached his 150th day in detention, El-Behairy was sentenced to three years in prison and a fine of 10,000 Egyptian pounds for 'insulting the military' and 'spreading false news.' The charges relate to his latest book of poetry The Finest Women on Earth, despite it not having been officially published.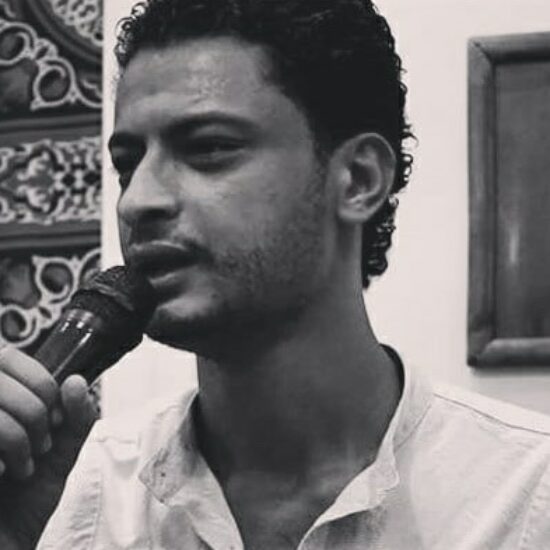 The light doesn't care
how tall the fence is;
it's not hemmed in
by steel bars
or officers' uniforms.
It cannot be forgotten.
Excerpt from 'A letter from Tora prison'
Please take a few moments to send a message of solidarity to Galal El-Behairy via our form below.
Background 
Poet and lyricist Galal El-Behairy was arrested on 3 March 2018 and held incommunicado for a week before appearing at the High State Security on 10 March 2018. His lawyers reported that he showed signs of severe torture and the Prosecution subsequently ordered for him to undergo a forensic medical examination. However, the findings of the examination have not been made public, nor shared with his lawyer. 
The title of his book, The Finest Women on Earth, was interpreted by the prosecutor as alluding to Egyptian soldiers. However, Galal El-Behairy defended himself against accusations in a statement released from prison in May 2018:  
This title does not refer in any way whatsoever to the Egyptian soldiers… It is rather a recognition of the value of women and of their good deeds in this world. Every soldier, man, fighter, scientist, and inventor is the result of a mother's education, a wife's embrace and a daughter's innocence. 
Galal El-Behairy is also being investigated by the High State Security Prosecution in relation to his book and the lyrics he wrote for the song 'Balaha,' recorded by exiled musician Ramy Essam and released on 28 February 2018. El-Behairy was one of eight people who were detained for their reported involvement in 'Balaha.' Tragically, one of those arrested – the 24-year-old filmmaker Shady Habash, who directed the accompanying music video – has since died in custody.  
PEN believes that El-Behairy is being held in violation of his right to freedom of expression and urges the Egyptian authorities to release him and the many other writers and activists unlawfully detained in Egypt immediately and unconditionally. 
Photo credit: Private collection.