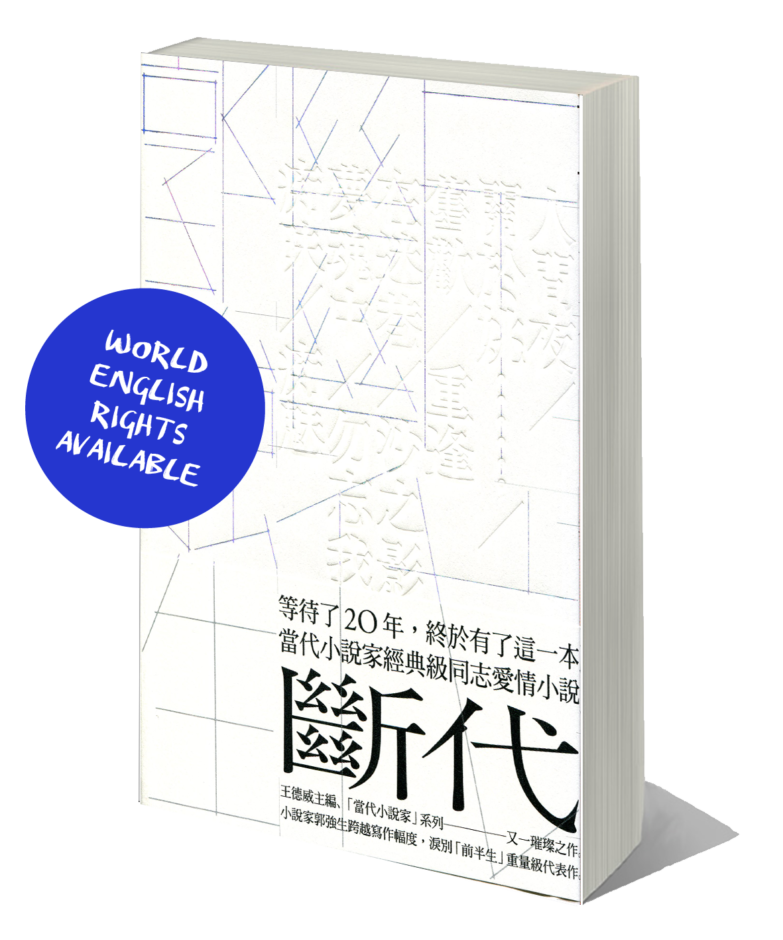 ---
About the book
An exhausted, perennially broken-hearted, middle-aged gay bar owner and erstwhile social butterfly. A young man who works the graveyard shift at a round-the-clock corner shop and is questioning his sexuality. A former record producer with HIV/AIDs and very little time left to make peace with his past. In A Time No More, the lives of these individuals converge and intersect, despite generational divides, class gulfs, and distinct outlooks, to provide a window into life in Taipei when you're gay—between the times of martial law and gay marriage; in secret and out the closet.
The slow-burning mystery novel begins one night in 2015, when the manager of MELODY has a stroke, and is found by the young man who during his shift watches the comings and goings of the bar's regulars. From there it traces each of the three's journeys, past and present, to discovering and coming to terms with their sexuality, through falling in and out of love, and of trying to find their places in the modern world.
What our readers say
Chiang-sheng Kuo paints an evocative, gritty, poignant portrait of queer Taipei through the decades – from the times of furtive underground communities to that of Pride parades and same-sex marriage. Jack Hargreaves' bold translation gives voices to the complex cast – ordinary men of different ages confronted with choices in life, love and mortality.
Awards and press
"Chiang-sheng Kuo likes to tell stories. His narratives, threaded together by carefully placed clues, are full of dramatic conflict and coincidence which imbue them with unexpected mystery. Yet his subjects are intriguingly melancholy, marred by convoluted circumstances, and ghostly in a way that isn't immediately apparent. In ATNM, these qualities reach their highest expression." – Prof. David Der-wei Wang
Rights Available
World English
---
Translation extract
A Time No More by Chiang-sheng Kuo 
Translation Sample by Jack Hargreaves
A Very Human Night
We best begin in 1985, a third of a century before rainbow flags, red ribbons and E were even a glittery twinkle in our eyes. We had to be extra careful in those days.
Taiwan only had three newspapers back then, and with globalisation still a way off, information was as hard to come by as imported cigarettes and alcohol. Good luck finding out a thing about our world! Even in Taipei, your ordinary man in the street struggled with basic English. There was no point asking any old passer-by, 'Excuse me, where might I find a gei ba?' They'd think it was a name for their unmentionables. And tongzhi? This is the era of martial law we're talking about, tongzhi still meant plain old 'comrade'. You were really asking for it if you went around proclaiming love for yours, even if you did mean it the Communist way.
So how to describe MELODY?
You didn't. You went with someone in the know or you risked a thorough frisk and questioning, in case you were up to no good. Subtlety was key. You had to learn the art of passing, avoid letting your hanky hang for all to see. That's why MELODY didn't stand out either. It didn't even have a karaoke machine when it first opened. These were the days when, economy-wise, Taipei was still dragging its heels behind Manila and Kuala Lumpur, and beggars couldn't be choosers: it was a miracle that MELODY existed at all.
Speaking of, do you remember when karaoke machines were the latest thing? When you'd have this big binder of lyrics, no screen obviously, and you had to find the right eight-track for the song? There were sixteen tunes to a tape, tops, but the things were as thick as dictionaries. And MELODY was all of thirty square metres, if that—you could have pulled out the bar and the stools, and it'd still have been a tight squeeze. Where were they going to find space for all those tapes?
Bursting to sing your heart out? Well you had to wait for the invention of digital song selection, darling. Sure, Cashbox Party eventually came along and everyone went there to butcher their favourite songs, but we all knew that in this town a gay bar wasn't a gay bar without a karaoke machine. A lot has changed these past thirty years, but you can bet those things are still standing.
Got vocal chops? Who cares, it's never been about that. It's about being in the spotlight. When the room is pitch-black, how else will people see you? Imagine all that effort getting dolled up gone to waste!
And the best part was that people in Taiwan really didn't know English back then. How they came up with a flashy name like MELODY beats me. Though it's not like the sign was in English—it was written in Chinese, 美樂地: mei-le-di, or beautiful-happy-place. How do you like that?
It was the art of passing at its best. Any uninitiated would figure the bar was a place of foreign business, and the police steered well clear. TEXOUND tried the same trick twenty years later, but it couldn't save the nightclub from dying a quick death. The logic went, as long as there was English on the card, it didn't matter if the regulars called the place 'Tai-ke-shuang': 'the Taiwanese are having one hell of a time.' You knew just what you were in for with a nickname like that.
There were, of course, other gay bars besides MELODY way back when.
Tongxinqiao must have been the first of them to install a karaoke machine. Then there was Chongqing, with its tiny dance floor jammed every night with men doing the tango or the jitterbug. On weekends, guys didn't even wait until the lights were out at First Hotel, on North Zhongshan Road, before the grubby alley down the side had strings of young men sneaking in and out of it. In some basement down the end of that alley was TEN, which arguably had the most iconic codename of them all, though half the guys didn't get the joke till they saw it spelled out: '一◯'.
TEN made disco a thing in Taipei. When it opened, it was all anyone could talk about, a few closeted film and TV stars even made an appearance. That gave the pretty boys there something to gawp at.
Back then, lao-Qi was still a fresh-faced twenty-something himself—tall, handsome, a bit of a bad boy, a hairdo that was half product. He turned heads whenever he stepped out onto the dance floor at TEN, had men almost drooling over him, and he sure did lap it up.
He had barely been back from military service for two minutes when he ran into the old shift manager for TEN, lao-San, who mentioned that their friend Qiao-ge wasn't just some TV singer on a contract anymore, he'd hit the big screen, getting his break as second lead in an art-house love story. The two of them were looking to invest in a space they could call their own, somewhere friends could bring friends or make friends. But the art films fizzled out two years later, so instead of playing the nice guy who never got the girl, Qiao-ge got out while the going was still good, made for Canada and got married. This left lao-Qi as the only one willing to help lao-San keep the place running. They were the ones who came up with the name MELODY.
They had plenty of luck too, more than anyone else back then. But nobody could have guessed that MELODY would still be going strong in the new millennium, never mind it lasting until today.
Dating, in those early days, was no bed of roses either. If you wanted to find your man, the bar was pretty much your only option. You had to talk and flirt, and since mobile phones and LINE messenger didn't exist, if someone caught your eye you left a note for them behind the bar for staff to pass on. It was nothing like now, with the Internet, where nothing's sacred.
Back when he helped start MELODY, lao-Qi never dared hope that he would find lasting love, it just wasn't a possibility for people like us. You could lie to yourself for a few years, at best, that maybe it could happen. But really, what was the point of being young if you didn't get a little wild? And MELODY was always supposed to be just a summer fling before he'd have to get serious and start a family. Not for a second did he think he'd still be there in middle age, coming in every evening, cleaning and setting up, then working until four a.m. when he finally put down the shutters for the night. That had been his life for almost twenty-six years now.
But that hadn't been half as big a surprise as hearing the words 'gay' and 'marriage' in the same breath. People had just started talking about it, out in the open, like the weather. Not that he thought it had anything to do with him anymore.
Even before, he'd only been out for himself, for anything to help him stand on his own two feet. The whole question of getting married or not had felt like one for the next generation. He never went to a Pride parade, not even just for fun. Between working every waking hour and barely getting a wink of sleep, where would he find the energy?
Besides, he was already in his fifties, and the worst years were behind him. Gone were the days when poor Momma Zhao was jailed for 'transvestism', because of one measly photo showing her in drag. Protest? Where were the calls for 'state compensation' for the old queens locked up for 'offending public morals'? Was anyone fighting for them? Were they hell.
But that's just the way it was, the kids had their own happiness to think about, which would explain why the marches were more like carnivals than protests—better that the elderly, infirm and unbeautiful kept their distance. MELODY wasn't where the youngsters went for an afterparty anyway. They had Bear House for that, or Red House—whatever it was called—or there was FUNKY or JUMP, the list goes on…
How times had changed. If twenty-five years ago someone had declared the queer market the honeypot of the future, they'd have been laughed off the island.
Nowadays, any plucky member of the new generation that came bounding into the bar and found a room full of ojisan would pull a face and slam the door on their way out. Zero respect. At least the youth used to have manners. They'd stick around and buy a drink, take time to commiserate with regulars over shared struggles, listen to their elders reminisce, and all without any of the attitude. But now they have no reason to hide, they have a role and are proud to fill it. Consumers is what they are. Mostly that means drinking, singing, and dancing themselves silly before tying a bow on the night with a trip to the sauna. And if they still aren't satisfied, no need to despair, there's always another party.
At some point in all this, people stopped bothering with the bar's real name, and it became 'lao-Qi's' to most. Though it was really only the long-time regulars who still called the boss that anymore; he was Andy to newcomers.
What set the generations apart then? Lao-Qi's was withering away, for one!
He had tried to shake things up once, to stop the business from withering along with him. This was when bars were shooting up like mushrooms after rain, and the competition had grown claws. He gritted his teeth and gave the place a makeover. Black paint inside and out, posters of male fitness models imported from abroad plastered on every wall. He was going to have a good go at making some money. Because if he didn't, what then? Was he hoping to get into heaven? Let's face it, those pearly gates were never going to open for his like, were they?
He was thirty-five then, and painfully aware he would have no one to turn to when he got old. When better to start building his nest egg? Too many gays wound up penniless, sick, or long in the tooth and alone, waiting for death in some pokey rental room in Ximending. Even the big comedy stars of the day couldn't escape this fate.
When lao-San became sick with the dreaded disease and handed the bar over to lao-Qi, the pair bawled their eyes out. Lao-Qi didn't want to go out that way, Andy even less so.
For some years after, lao-Qi ran the bar like a full-blown meat market and, girl, was it popular. People knew that when they stepped inside that dark cave of delights, anything went, no judgement. But he couldn't face changing the name. He had been clueless to be fair, and he saw that now. If his elders hadn't taken him under their wing, persuaded him to turn MELODY into a little haven for him and his, he might never have stopped cruising at New Park, and who knows which hole he would've wound up in.
Because, despite ups and downs—mostly downs, really—MELODY was still pretty legendary.
Twenty-five years lao-Qi had manned that bar, and besides the few when Tang-ge helped out, he'd done it single-handedly. It didn't matter how busy things had got, he'd never messed up the books, never botched an order. You better believe he was made for this business.
But as capable as he was, it was time lao-Qi admitted he was getting on. Halfway through mopping, he collapsed. He'd felt dizzy, then passed out. And there were still glasses to clear. When he opened his eyes again, he found himself curled up in a corner, cuddling the mop.
His heart was racing. The digital clock on the wall said 04:20. He had only been out for half an hour, but lord did he feel like it'd been a long haul, and like he'd sprinted hell for leather the whole way. His body was a puddle. It took him a moment to figure out where he was.
The bar he'd presided over for half his life looked the same to him then as it always had at closing. Beer bottles strewn across the bar, a music video still playing on the muted karaoke machine. No clue whether or not the rain had stopped outside the windowless space.
It hadn't, not for days. A cold front, apparently.
But rain had never been a problem. Lao-Qi might not have had all the hot, young things in town lining up at the door, but he could always rely on his regulars when it was cold and wet out. Who wants to be home alone on a rainy night when there's a bar to go kill time? It's about all the place was good for anymore: the biggest karaoke selection in the city, all the golden oldies from twenty years ago. You couldn't find memories like that elsewhere, ones best indulged on a dreary evening.
But hardly anyone had turned up last night. There had been a handful of the usuals, at most, and even they slipped out under the boss's nose, leaving behind a stack of song requests for the karaoke and even more queued on the machine.
Lao-Qi, still groggy, blinked at the closeup of Monique Lin's doleful face on the screen. Another '90s gem. Someone must have asked for it, then taken off early.
Who's got time to wait? People give up on bigger dreams every day.
Weeknights had been ending on this lonely note all winter. Patrons leaving the same way they came in: solo. There were no eyes locking across the bar, no newfound friends heading out into the night together.
The ones who turned up on miserable evenings like these weren't the type.
Cruisers were easy to keep happy. The rest, dark clouds following them round, they were harder to get a handle on. They sang song after song, drank till they got crazy, slumped over the bar sulking. By midnight, they looked a sorry lot. And they were no sunnier by close, even with another dismal night behind them. Weren't they cursing their weakness?
Why won't my feet listen? This place, again? How many more nights?
Counting their cash, lao-Qi could almost hear their inner turmoil.
It was a love-hate thing coming to MELODY. Some people even accused lao-Qi of exploiting the loneliness of his fellow man to line his own pocket, but it's not like it didn't bother him when their self-loathing turned to disdain. Disdain for him. The more things had got like that, the more he'd had to remind himself not to let their emotions get him down, so he still saw everyone off with the chirpiest 'Good night' or 'Catch you later' he could muster.
Then there was last night, the rain still coming down in buckets. The smell of cigarettes hanging in the air like invisible memories.
Still in a daze, lao-Qi realised the Monique Lin must have been picked by xiao-An. About time he was lao-An now, surely?
Fifteen years that man had been with his boyfriend, the record holder to this day. They met at lao-Qi's, but unlike others they hadn't burned that bridge once they'd crossed it, and they still occasionally showed their faces. Last night was one of those rare occasions. They finished at the late-night cinema, grabbed a midnight snack then dropped by on their way home, shared around a few bags of lu wei meats and fried chicken breast, rattled through some quick catch ups, then were off again.
Xiao-An was already forty when ah-Xiang had strutted into his life straight out of the military, all six feet of him. No wonder he'd thought the army police officer was a buff angel sent from above, but now ah-Xiang had hit the big four-oh himself. He was already twice the size he was back then, sideways that is.
Mike couldn't resist commenting the moment the pair were out the door, 'It's a blessing ah-Xiang's got as fat as that. Who else would look twice at him now? Lucky that xiao-An's so smitten.'
Lao-Qi ignored him. He could still remember when Mike had his eyes on the ex-military man himself. Shame it wasn't mutual.
Mike had made the rounds, too, once upon a time, but who knows what his status was these days. It's true he was a little unfortunate looking, short and flat-nosed, but there were worse looking out there who'd had success, right? If only his go-to move wasn't to flash his doctor's ID. Gross.
Between men, you see, everything's even stevens. Getting together is just a matter of willing. Even the most gorgeous women only end up competing over who's the prettiest—jealous rivals is the best they can hope for. But put two beautiful men together and it's a different story, there's no envy, just love, or lust. Isn't there something pure about that? Go about it the hetero way—nag someone till they cave, like they do—and you're digging your own grave. If you know your looks don't cut it, make up for it with personality. Be generous, humble, there's always some dish who's had his fun and is on the lookout for a man with his feet on the ground. Nothing worse than mutton dressed as lamb. You ought to know, any young thing with run-of-the-mill looks trumps an old gal dressed to kill, any day. Better to settle for some average Joe you can bear to look at. And who was he trying impress with that doctor's ID? He would be getting on in no time and it's only downhill from there. Then we'd see how long he'd still feel good about himself.
Wait, Mike can't be the same age as me?
Lao-Qi looked over his distorted reflection in the glass wall. I'm doing alright, aren't I? I still work out…
In his vainer years, he had loved nothing more than flirting with the meeker customers and watching their faces flush with embarrassment at where their minds went. But nowadays, he was more mother hen than spring chicken, and in only a couple of years it would be high time he gave retirement some serious thought. He couldn't have his customers clapping eyes on a decrepit old queen behind the bar.
But what then?
If our age was the number of years we'd been on the scene (counting from the '80s in lao-Qi's case) his lot would still be hanging up their heels before long. But it wasn't impossible that they'd have to fight for their rights in the streets, yet! They'd kept quiet all their youth after all, spent it in hiding. There was no reason why they shouldn't have a last hurrah. Not for anyone else, just so grizzled gays like them could close out their lives with some dignity.
Seems what it had come to was finding himself a home. Honourable retirement à la old civil war vets. Or better yet, he could pretend his children had abandoned him to fend for himself. With marriage equality as priority number one for youngsters, getting old was the last thing on their minds. But just because you've got the right to marry doesn't guarantee someone's going to marry you. Wasn't that the truth!
That's why nothing less than a dedicated home for queers would do—lao-Qi always said as much to anyone at the bar who'd listen: or did they expect him to keep up appearances with elderly dames at the ripe old age of seventy?
*
Yao 
There was so much in you that charmed me that I felt I must tell you something about yourself.
—Oscar Wilde, The Picture of Dorian Grey 
Taipei when I was at school didn't have all the tall buildings it does now. So when my attention drifted in class, I often found myself spacing out at the old tree outside the window, its branches heavy with waxy leaves swaying to the rhythm of a steady inhale and exhale. The sky behind that deep green was always so clear, and even on days it rained, the grey still had a sheen to it.
Sleepy clouds would putter by, pause a moment, then roll over and stretch themselves long.
It must have been on one of those days when I walked out of the activities room, with my acoustic guitar in hand. Just another lazy day at that point.
This was back when I still strung my guitar with nylon, before I swapped to steel strings a few years later. It was right at the peak of the folk craze on campus, when no matter where you went there was always someone noodling on a guitar in the background. That day, walking the long corridors of the old building, I turned down the corridor to my form room, though I had no real reason to. If only I'd known then how much turning this corner was going to change everything; that what happened next would stay with me for the rest of my life.
At seventeen, I looked no different from any other boy at secondary school: metal plate jammed in my cadet cap so it stood tall and proud on my head, backpack straps pulled as tight as possible, the bag braced with an upright wooden board to keep its shape. My grades were passable, and I got along great with my classmates, though I don't imagine the teachers had any lasting impression of me. At the end of term I would stay on instead of going home so I didn't miss out on guitar club. Practice was my world.
I'd always done as I was told, what was expected, and if you'd asked me then what I was imagining for the future I would've probably told you my biggest hope was to own a car by thirty. Settling down, starting a family, that all seemed so far off, and I had until year twelve before I had to start worrying about university entrance exams. I never felt like I was very ambitious, and I definitely didn't have stand-out looks. Class and guitar practice were about as much excitement as I saw in life, which I realise now sounds pretty sad. I was just coasting, spending all my spare time sleeping, watching telly, daydreaming. When I was really bored, I even helped my little brother with the arts and crafts he brought home. I wasn't doing anything with my pubescent frustrations and freedoms yet, I wasn't ready to.
Those feelings were like dust bunnies to me then: I didn't know they were there for the simple reason I hadn't bothered to do the spring cleaning. If there's anything I regret about being seventeen it would definitely be the time I wasted not knowing. It wasn't until that day in the corridor I even realised there might be anything different about me. That my passivity might have been a way of resisting something inside.
I lingered a moment outside the door to my form room.
One step away from more than I could ever have prepared for. So much desire and confusion waiting for me just across the threshold.
There was someone sitting at the back row of desks, in the corner. They had their head down and were scribbling furiously in their exercise book, the writing brush held all wrong in their hand. The lights were off, but there was a shaft of sunlight coming in through the window and falling on the thick black scrawl on the open page.
Yao Ruifeng was repeating the year, which is why, I suspect, he seemed at once to be and not be a part of our class. It was anybody's guess why he got held back. PE lessons were the only time he really looked like one of us, but he never stuck around long after the bell. Instead, he'd go off and find his mates in the year above. At that age, a year or two is all it takes for a boy's body to become a man's. And there was no mistaking that he was older, all broad shoulders and thick chest, and because he seemed determined to not let those of us who were younger than him forget it. It was a point of pride he used to lord over us. But anybody with eyes could see how awkward he found the situation, especially since our teacher had no interest in hiding his impatience for him, had no qualms about making an example of him at every opportunity, 'Is one year not enough for you? If you're not going to work hard here, then get yourself off to a polytechnic. It's as simple as that. If you haven't got what it takes, just save yourself the trouble of entrance exams. Go back south, do an apprenticeship….'
He was made to stand in front of the blackboard in his tight-fitting, faded khaki top made custom in Chunghwa Mall, flares that were too small and pointed leather shoes, none of it in line with our uniform, and with a hangdog look like regret on his face that nobody could work out. When class was over, the rest of us never really knew what to say to him, so we tended to keep our distance, tried not to bother him. I was no different and I was the next desk over. But even though we didn't talk much, I always slipped him my notebook for the next class when he was finally allowed to sit down.
It was pretty normal for kids from the south and the midlands to come north for the final year or two of school, to prepare for their entrance exams, but Yao had moved here even earlier. You can imagine how proud his parents and neighbours must have been that he'd got into such a reputable place. Maybe he wasn't putting on that face after all. One look at him sitting alone in the dim classroom hunched over his workbook and it was pretty clear how many essays he owed.
Term was almost over, and he was scrambling to catch up. Classes were going to be reassigned for the next semester. I'd picked the social sciences track, and when my teacher-dad hadn't opposed it, I started to feel like as long as I could make the grades and pass the civil service exam, things would turn out alright.
Natural sciences being the priority they were back then, there was no way an arts student was going to be kept in that same class. But when I thought back on the year, standing in that doorway, there was nothing memorable about it.
If I had to pick something, it was probably Yao. He was my peer, and I wanted to look out for him, which is why I made sure to check his grades regularly, to see if they'd improved. What got me was how he could seem so busy every day and still be pulled up every other class for missing homework. His cavalier attitude, the warnings he got from on-duty teachers for his two-day-old stubble, the trainers, sports shorts, comics and various other books crammed inside his desk, all meant I couldn't ignore Yao even if I tried.
Like other out-of-province students, he left his stuff at school overnight because he didn't really have a home to take things back to. So his jumble of gear grew over the term: an umbrella, swim shorts, an undershirt, a basketball, his woodworking homework. It was a sight for sure. Some things he jammed inside the drawer in his desk, others he hid under his seat or hung on the back of his chair. It looked like a homeless man had moved in and built himself a shelter while school was out.
When he noticed me standing next to him, he didn't stop writing. He just shot me a quick look and tittered, 'I'm done for. If I don't get my language work in today, I'll fail.'
Somehow this hadn't ruined his good mood.
'Why are you here so late?'
'I've just had practice.'
Now he put down his brush. 'Let me see your guitar.'
I couldn't believe it when he took the instrument and started plucking out the intro to Jim Croce's Time in a Bottle like it was nothing. He played up to where the vocals usually kicked in then stopped suddenly and handed the guitar back.
'I can't sing for the life of me,' he said.
We didn't say anything more after that. I wasn't planning on leaving, and he didn't appear to mind if I stayed there and watched him continue to attack his exercise book. The school had fallen so quiet that the tune Yao had just played seemed to hang in the air long after he stopped. I caught myself, then, picturing how things might have been if I was an outsider student like him, far from home, and Yao was my roommate. Would this be how we spent our nights, in the cramped box we rented together?
Roommate, what a novel word. Not classmate, not friend. Roommate. Back home, I was the big brother, with a younger brother and sister in middle and primary school. The thing I said most to them was 'Get out! Did nobody teach you to knock!' But that evening sitting in the classroom corner with Yao, in my pretend room, was the first time I realised boys could share space without needing to be in a big gang or going to buy ice lollies or playing ball.
'Sing something for me,' he said.
'Why?'
'I bet you've got a good voice.'
'What makes you think that?'
'You do when you talk!'
He didn't look up when he said this, he just flicked back through his homework book, counting how many pages he'd filled, then went back to scribbling as quickly as he could.
'What do you mean a good voice?'
'Like… like, good for listening to when you want to get to sleep.'
'Oh, you mean like Li Jizhun from late-night radio?'
What was so funny about that? My response had him snorting with laughter, and he was struggling to stop. 'That's it, right, right, that guy.'
I'd only ever seen Yao wearing one of two expressions, this mean look he had, or a weird, slanty smirk. So this was how he laughed, I remember thinking. It suited him, smiling all big like that. I couldn't help but to laugh along with him.
★